Halifax property sales soar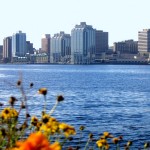 According to a Colliers International report, the commercial sales volume in 2011 in Halifax was $299 million, and private-equity sales volume was $11.8 million, more than three times the amount transacted in 2010.
The most sought-after assets were multi-family building, representing one-third of all sales volume, followed by industrial and then retail properties.
Especially prolific were real estate investment trusts and publicly traded companies, who were involved in 10 percent of the sales.
"We had some supply that was at hand; REITs are usually always looking for spots," Pam MacFarlane, research director at the Colliers International's Halifax office, said in a phone interview on Wednesday.
"We have a lot of large apartment buildings under construction, and REITs like buildings of a larger size with 100 units or better, and we have some available."
Among the more notable transactions that took place last year was a $65 million purchase of 1,261 units in Atlantic Canada, including Halifax, by TransGlobe Apartment REIT of Mississauga.
Strathallen Capital Corp, out of Toronto, purchased 72,000 square feet of retail space at 215 Chain Lake Dr for about $18 million. Cominar REIT bought 76,000 square feet of office space at 84 Chain Lake Dr for $15 million and 41,000 square feet of retail space at 612 Windsmill Road for $5.5 million.
Killam Properties Inc bought the Linden apartment building in Dartmouth for $15.8 Million and 75,000 square feet of office and retail space at 3770 Kempt Road for almost $8 million.
In the wake of the momentum garnered from the $25 billion shipbuilding contact and other economic generators, this year promises to be just as busy for investors in the Halifax market, MacFarlane said.
"We think it's going to be equivalent to last year, maybe not transactionally, because there were a lot of little transactions (in 2011)," she said.
"Killam is still in buying mode for apartment buildings and there are a lot of national investors looking this way, I think, because we have some supply.
And Canada, as a whole, is a new investment market for overseas investors."